Did search All Notebooks in Microsoft OneNote stop working? Or you're getting partial results, such as only new pages are searched? Then try the steps in this post to fix the issue.
Note: This post applies to the desktop version of OneNote 2016, running on Windows 10.
Set the Scope of the Search
First, make sure the scope of your search is set to "All Notebooks"
Click on the drop-down arrow to the right of the magnifying glass in the search box.
Make sure "All Notebooks" is selected.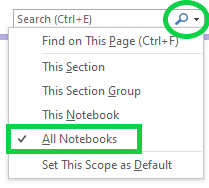 Resetting the OneNote Cache
If search does not work when the search scope is set to "All Notebooks", then try recreating the cache, using the following steps:
Open OneNote 2016
Click the File menu, then select Options
In the OneNote Option window, click Save & Backup
In the "Cache file location" section, copy or make a note of "Path"
Click Cancel, to close the OneNote Option window
Exit from OneNote
Ope1n File Explorer
Go to the directory specified for "Cache file location"
Rename the "cache" directory to "cache.old"
Start OneNote
The time to recreate/rebuild the cache, depends on the size of your notebooks, and the number of notebooks you have open.
OneNote Search Notebooks Stopped Working is a post from: ConsciousVibes.com which is not allowed to be copied on other sites.